The quarry on the 158-acre Hawton site was, in fact, simply a circular hole, 100 yards in diameter. The methods of extraction were similar to those at Beacon Hill, although once having been extracted, the gypsum was transported in barrows along narrow walkways away from the rock face. The lease at Hawton also included a horse-drawn, narrow gauge tramway which linked the Hawton works with the River Trent at Spring Wharf. This was converted to steam in 1901 and was used up until the 1940s. The rails were removed shortly after the Second World War, and little trace now remains, apart from a crossing keeper's cottage on Farndon Road, loading shed at Spring Wharf and the outline of the track-bed running through Queen's Sconce.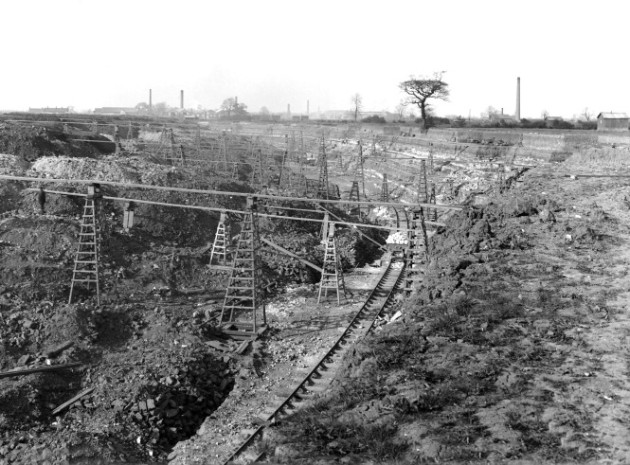 View of Hawton Quarry - Courtesy of the British Geological Survey

Having expanded and ensured himself a gypsum supply for many years, Redmond Parker modernised the plant and established his own large growing family, of seven sons (an eighth son had died in infancy) and five daughters, in Irnham Hall, near Corby, Lincolnshire.
A sign of the spacious times was that the Great Northern Railway, anxious to please an important customer, gave Redmond a slip carriage of his own, to be attached to the express passing through Newark at five in the evening, to take him to Lincolnshire, where it was again slipped off. In fact, Redmond only used this facility at weekends, spending weekday nights in The Cottage at the works.
| | |
| --- | --- |
| In 1892, his two eldest sons, Hubert Marie and Louis William, were taken into the business, Hubert being given the practical side and Louis the office and business side. Trade at this time was very good, the demand exceeding supply. More ovens wore installed to try to keep up with the demand. The Hawton mill took a long time to complete and, moreover, they were having trouble with the Hawton quarry. By the time his third son, Redmond Barton Cafferata, joined the firm in 1894 to look after Hawton, traffic was too much for the small loco that was supposed to be dealing with it. | |
A large, saddle-tank loco was bought, but its weight was so badly distributed that it smashed the tracks several times and once was even seen with its front wheels waving around in the air.